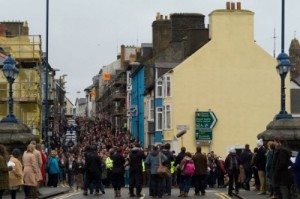 Mae NativeHQ yn hapus iawn i lansio rhaglen gwasanaeth newydd o'r enw Craffu ar y Cyfryngau Cymdeithasol ym maes y Celfyddydau, mewn partneriaeth â Chyngor Celfyddydau Cymru. Mae'r rhaglen yn agored i bob sefydliad celfyddydol yng Nghymru gyda dyddiad cau o 20fed o fis Medi 2013.
Dros gyfnod o wyth mis, bydd NativeHQ yn darparu cymorth pwrpasol i bump sefydliad gan gynnwys strategaeth a hyfforddiant ar gyfryngau digidol a chymdeithasol.
Am ragor o wybodaeth ar y rhaglen a sut i wneud cais, ewch i'r dudalen hon os gwelwch yn dda.
NativeHQ are very pleased to be launching a new service programme called Social Media Insights: Arts, in partnership with Arts Council Wales. The service programme is open to all arts organisations from Wales and is open to applications until 20th September 2013.
Over a duration of eight months, five organisations will receive bespoke strategic and training assistance on their use of digital and social media, which we will provide.
For further information on the programme and an application form, please visit this page.