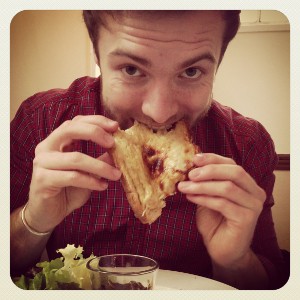 Rydyn ni'n blogio o Ganolfan y Celfyddydau, Aberystwyth bore yma. Mae dwy awr i fynd cyn dechrau Y Bont, y stori aml-blatfform am ddau cymeriad – a llwyth o bobl ifanc y wnaeth protestio dros statws i'r iaith ar Bont Trefechan yn 1963.
Os dych chi'n methu'r digwyddiad byw a pherfformiad yn Aberystwyth rydych chi'n gallu dilyn popeth ar-lein – gan gynnwys lluniau a fideos – ar y pryd, o le bynnag yn y byd rydych chi'n byw. Mae dau opsiwn: dilynwch @ybont2013 ar Twitter neu ewch i wefan Y Bont 2013.
(DIWEDDARWYD y cofnod hwn ym mis Awst 2014 er mwyn ychwanegu dolen i'r wefan archif Y Bont 2013, sy'n ardderchog.)
We're blogging from the Arts Centre in Aberystwyth this morning. There are two hours to go until the beginning of Y Bont, the multiplatform story about two characters – and a crowd of young people who held a sit-in protest on Trefechan Bridge to raise the status of the Welsh language (the word 'pont' in the title translates to 'bridge').
If you can't make it to the live event and performance in Aberystwyth you can follow everything online as it happens – including videos and images – from anywhere in the world. There are two options: follow @ybont2013 on Twitter or go to the Y Bont 2013 website.
(This post was UPDATED in August 2014 to link to the wonderful Y Bont 2013 archive website.)