Just poking my head out from the nerve centre to say that we've been working with WWF Cymru on the Earth Hour 2013 event and campaign. On 23rd March at 8:30PM many thousands of people, organisations and businesses will be switching off their lights for one hour. For those taking part it's a statement of support for renewable energy and a chance to think about it with friends. I like to think of Earth Hour as an international festival, as people will be variously organising processions, poetry evenings, singsongs, candle-lit dinners, art projects and a whole lot more.
Saying that our role on the evening itself will be trying to document, blog, post and capture as much as we can of various things other people are doing. More generally, NativeHQ's work on the event and campaign has included social media strategy, network building, online publicity, social media advertising and production of videos and other content.
Please sign up for Earth Hour so that your own participation and support is logged in the stats, whether as an individual or on behalf of a household, company or organisation. It will take around two minutes to sign up.
Follow:
Test your knowledge of renewable energy with this quiz (made by Carbon Studio).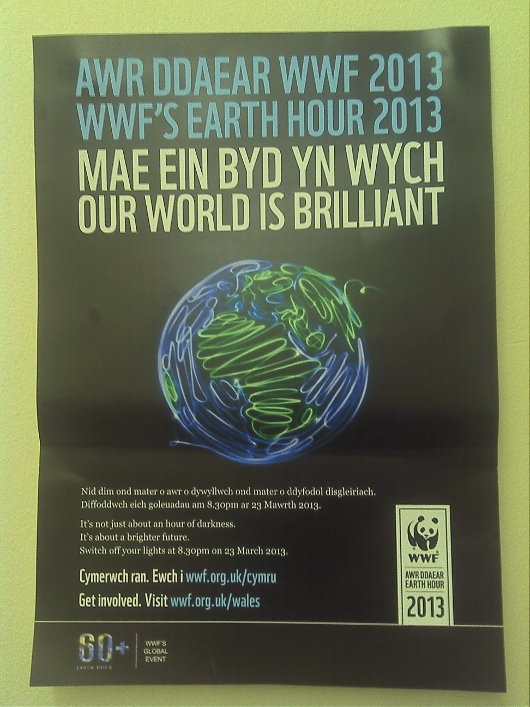 Dw i newydd ffeindio gwagle prin yn y dyddiadur i ddweud ein bod ni'n helpu WWF Cymru gyda'r digwyddiad ac ymgyrch Awr Ddaear 2013. Ar 23ain o Fawrth 8:30YH bydd miloedd o bobl, sefydliadau a busnesau yn diffodd eu goleuadau am un awr. Mae'r gweithred yn datganiad o gefnogaeth am ynni adnewyddol a chyfle i'w ystyried gyda ffrindiau. Mewn ffordd mae Awr Ddaear yn wyl rhyngwladol – bydd pobl yn trefnu gorymdeithau, noson barddoniaeth, noson canu, cinio a chanwyll, prosiectau celf a mwy.
Ar y noson bydd angen i ni dogfennu, blogio, postio a recordio gymaint sy'n bosib o weithgareddau pobl eraill. Yn cyffredinol mae gwaith NativeHQ ar y digwyddiad ac ymgyrch yn cynnwys strategaeth cyfryngau cymdeithasol, adeiladu rhwydwaith, cyhoeddusrwydd ar-lein, hysbysebion cyfryngau cymdeithasol a chynhyrchiad fideos a chynnwys arall.
Cofrestrwch am Awr Ddaear er mwyn dangos eich cefnogaeth a chyfranogiad, fel unigolyn neu ar ran cartref, cwmni neu sefydliad. Mae'r broses cofrestru yn cymryd tua dau funud.
Dilynwch:
Profwch eich gwybodaeth o ynni adnewyddol gyda'r cwis yma (gwnaethpwyd gan Carbon Studio).