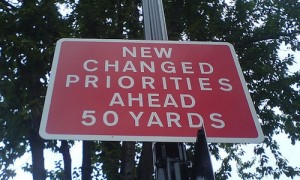 If you run a Facebook page, the changes announced this week are important for you to know about. In a nutshell, the swanky new design led Timeline display that we've been seeing on personal profiles has come to Facebook pages. Some of the changes will be a bit annoying (work you've done previously could become irrelevant now) but as with most Facebook changes, these guys know what they're doing and it'll almost certainly result in better experiences for your fans.
Here's a summary of some of the biggest changes:
Cover photos (the big photos on the top of the page 850 x 315 px) give you the opportunity to create a strong visual identity to your page. Here's some inspiration from Mashable if you need it – 20 Facebook cover photos to inspire you.
Custom tabs have changed position, size and the number that are visible above the fold – instead of having a load of tabs running down the left hand side of the page, you get just four large tabs at the top of the page underneath the cover photos. This is going to be annoying for page admins that have developed a lot of content on their Facebook page, and it'll force you to think carefully about which are the most important.
Custom welcome pages for non-fans are gone. Having a friendly page incentivising people to like your page has been important for the last couple of years, but they are no more – users will now land on your timeline, and there's no choice about it.
Content layout has changed – those familiar with the Timeline will know about the two column layout, with the line in the middle representing time. This will provide some challenges as people learn how to use the layout effectively. You can add deep history to your Facebook page if your brand has some serious history – you can add milestones to give the timeline depth.
Sticky posts it's now possible to keep a post at the top of the timeline by pinning it to the top of the page (where it'll stay for a week) – this is going to become a critical space for pages to post their key message.
Messages – something people have complained about for years with pages – you can now message your fans – but only if they message you first. So it's something you can use to encourage people to get personal responses from you. You can turn this option on or off in your Page edit menu.
A new admin panel which appears at the top of the page gives a snapshot of recent activity, messages and even gives tips (we'll have to see how useful these will be).
These are the big issues you need to think about immediately. All in all, this is quite a significant change, so if you run a Facebook page, it will be well worth your time getting to grips with how things now work.
There are a very useful posts from some of the big social media agencies in London that are well work a look – here's my top three:
Blog post on Mashable about the key changes you need to know about by Victoria Ransom, CEO of Wildfire Interactive
Katie Glass from FreshNetworks posts about Facebook page changes
We are Social post about how they redeveloped Bulmer's Facebook page and the lessons they learnt.