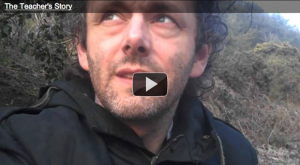 It's nearly a year ago since Michael Sheen's The Passion of Port Talbot – one of the most acclaimed pieces of large scale participatory theatre in recent history.
The play that transformed the South Wales town of Port Talbot on Easter weekend 2011 was also live blogged to the world across multiple internet platfoms thanks to a project that we ran with a team of volunteers from the town. It's one of the most exciting multiplatform events we've been involved with.
Port-Talbot.com was framed as a local blog within the world of the Passion story… writing as if everything happening in the show was happening for real. During the weeks leading up to the show, we built up the storyworld in the town, spreading news of a missing teacher from the town and a sinister multi national company ICU industries, which was due to arrive at the town soon.
We set in motion a transmedia experience with an alternative reality game (ARG) that took people from codes on graffitit defaced posters in Port Talbot town, to phone numbers, live events and the web, leading to the release of a unique short film with Michael Sheen as the character, The Teacher.
We lived blogged the events that took place in Port Talbot over the weekend, filming the action and editing and uploading it to the web within a couple of hours. The final crucifixion scene was witnessed by twelve thousand people on the streets of Port Talbot and tens of thousands more online from one hundred and twenty countries.
Live blogging has the advantage of bringing an event to the web, enabling people from all over the world (from 120 countries!) to feel involved and connected to events on the ground. With the Passion, we created the blog as a new character in the story – a media outlet that was part of the world in which The Passion took place.