Please note: Applications are now closed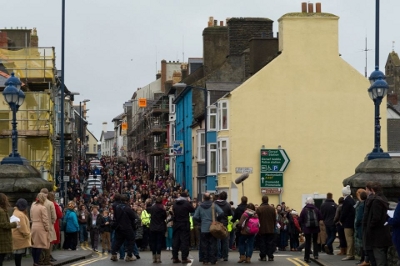 Social media have the potential to change the possibilities for arts organisations to connect meaningfully with current and new audiences – if done properly. It's getting it right in a specific arts context that is the challenge. This is especially true for smaller arts organisations that have limited capacity and don't have a designated person with the skills to take the lead.
This development programme will support five arts organisations working across art forms, language and geography in Wales, to use social media effectively in their organisations. Over a eight-month period, the five organisations will work with NativeHQ, a company providing bespoke support in the use of online communications networks. Each arts organisation will work with NativeHQ in monthly sessions to develop and follow a customised agenda for improving the arts organisation's use of social media, covering issues such as strategy, training, network growth, individual campaigns, advertising, digital media production, monitoring and evaluation.
This project will also include a research and development component and will help Arts Council Wales to understand the needs of organisations in the sector in this new area of work.
Supported by Arts Council Wales, this programme will be delivered by NativeHQ and will consist of the following activities:
Initial meet up of participating organisations for networking scheduled around the Arts Council Wales Conference October 2013
8 x three-hour sessions with NativeHQ over a nine-month period between October 2013 and June 2014
Between each session, each arts organisation and NativeHQ will mutually agree an agenda for the next session and beyond
Each organisation will get an account on NativeHQ's social media analytics platform, monitoring activity across all of their social media accounts
Two scheduled meet-ups for five participant organisations for networking and sharing
What we will expect from you:
An enthusiasm within your organisation for the potential of using digital networks for audience development
A financial commitment of at least £200 which will be spent on social media/online advertising to support audience development during the programme
Three hours set aside for staff to meet with NativeHQ on a monthly basis and a commitment to attend the initial meet up and two sharing sessions
An open, rigorous, experimental approach to learning
A named lead person for the project within your organisation
Willingness to participate in a limited number of R&D and evaluation activities to assist learning within the programme
Eligibility
The programme will support both new and established arts organisations
Applications must come from an arts organisation based in Wales
We are open to working with organisations with little or no experience of digital media
We are seeking a diverse portfolio in terms of organisation size, art form, geography and language
Partner organisations
NativeHQ
NativeHQ is a consultancy partnership specialising in digital communication across informal networks. It has pioneered the use of social media within arts organisations, worked with National Theatre Wales and Battersea Arts Centre to develop online communities, and in theatre productions such as the Passion by National Theatre Wales and Y Bont by Theatr Genedlaethol Cymru. It was the winner of the 2013 Theatre Critics of Wales award for the best use of digital/online content for its work on The Radicalisation of Bradley Manning by National Theatre Wales. It enables a diverse range of organisations in Wales to use social media effectively by providing bespoke support services.
nativehq.com
Arts Council Wales
Arts Council of Wales is responsible for funding and developing the arts in Wales. Arts Council of Wales is an independent charity, established in 1994. Its members are appointed by the Welsh Government's Minister for Culture and Sport. Regeneration and Heritage. The Arts Council of Wales' principal sponsor is the Welsh Government and it also distributes funding from the National Lottery and raises additional money where it can from a variety of 3 of 3 public and private sector sources. Working together with the Welsh Government, the Arts Council of Wales is able to show how the arts are helping to meet the Government's policy ambitions.
www.artswales.org.uk
Timetable
Programme launched and open for applications: 31st July
Deadline for applications: 5pm, 20th September 2013
Successful applicants notified: 30th September 2013
Sessions commence: October 2013
Programme events:
Meetup at Arts Council Wales conference.
Meetup at Arts Marketing Association conference (TBC) or other event.
Assessment criteria:
Development – will this opportunity contribute to the organisation's practice in the medium to long term?
Fit – does this opportunity fit with the organisation's development ambition in the medium to long term?
Commitment – does the organisation demonstrate commitment to developing its practice with social and digital media and the programme
Potential – how well can the organisation's artistic practice and human and technological resources contribute to potential for using social media to develop audiences?
Contacts:
If you have any questions or queries, please contact:
Please note: Applications are now closed