NativeHQ is a specialist social media company.
We support our clients
to engage with social media intelligently.
Our latest blog posts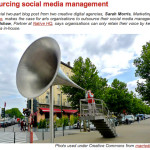 We were asked recently to write down our thoughts on why Arts organisations should not outsource their voice on Social Media platforms recently, for the Arts Marketing Association blog. The … read more...
Who are we
An ethical social media agency from Cardiff, south Wales working with arts organisations, social enterprises, businesses, public sector agencies, universities and charities.
Our clients include…




Get in touch with us
T: 029 20461425
E: post@nativehq.com
Follow us
Subscribe to our blog