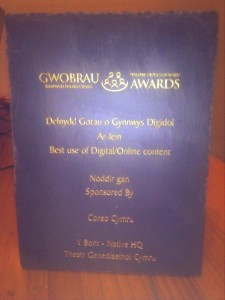 Mae'n anodd credu bod blwyddyn lawn wedi mynd heibio ers cynhyrchiad Y Bont yn Aberystwyth. Roedd y ddrama yn nodi hanner ganrif ers y protest iaith torfol enwog ar bont Trefechan yn 1963. Mae Theatr Genedlaethol Cymru yn lansio archif o'r cynhyrchiad ddydd Sul yma (2il Chwefror 2014). Bydd e'n cyfle i bobl a fynychodd y ddrama weld safbwyntiau eraill yn ogystal a chynnig cyfle i'w wylio i bobl a fethodd y digwyddiad. Ewch i gyfrif Twitter Theatr Genedlaethol am ragor o fanylion cyn hir.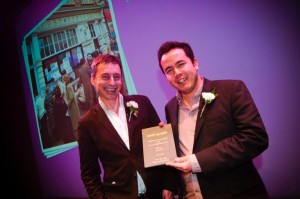 Mae NativeHQ a Theatr Genedlaethol Cymru newydd dderbyn gwobr am waith ar Y Bont oddi wrth Gwobrau Theatr Cymru, sef Defnydd Gorau o Gynnwys Digidol/Ar-lein. W00p!
Fel y dwedais ar y llwyfan nos Sadwrn, y stwff digidol yma ydy cyfrwng. Fydd ddim llawer i wneud ar ein pennau ein hunain ac rydym yn hollol ddibynnol ar bobl eraill er mwyn i ni ddogfennu, dehongli, rhannu, recordio Vines fel yr un uchod (platfform yr oedd yn newydd sbon ar y pryd) – ac ati.
Rydym fel cwmni eisiau cymryd y cyfle i ddweud diolch i'r bobl ganlynol.
Heledd Hardy a'r tîm digidol am eu gwaith caled, sef myfyrwyr o Brifysgol De Cymru a Choleg y Drindod Dewi Sant: Efa Harris-Davies, Lowri Wynn, Catrin Lewis, Sioned Evans, Elen Jones, Aaron Cooper, Mali Rees, Bethan Evans, Aled Bishop, Steffan Morgan, Steffan Griffiths. Mae'r wobr yma i chi hefyd.
Yr ysgrifenwyr Catrin Dafydd, Ceri Elen ac Angharad Tomos
Lois Jones, Chris Hoskins a'r cast i gyd
Elin Williams a Steve Dimmick am eistedd mewn ystafell dywyll gyda llwyth o dabiau porwr ar agor tra oedd pawb arall tu fas
Green Bay, Dylan Richards, S4C a Huw Marshall am gydweithrediad weddol esmwyth rhwng platfformau
Arwel Gruffydd a phob aelod o dîm Theatr Genedlaethol Cymru a'r criw ar y cynhyrchiad
This post is about our Wales Theatre Award: Best Use of Digital/Online Content for our work on Y Bont with Theatr Genedlaethol Cymru. There isn't enough room on the slate for the names of the digital team who are sharing in this award with us plus the others we want to thank, so we've credited them here. Congratulations to the other nominees in our category too!